Good Wednesday or Good Friday?
---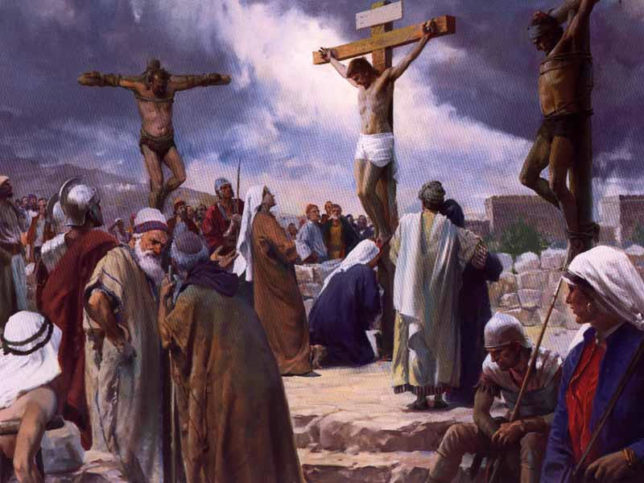 Christians have always celebrated Friday as the day of Jesus' crucifixion and burial.  I never questioned this belief until I heard the teaching that Jesus died on Wednesday instead.  So I researched it, extensively, and concluded that there are valid arguments for both a Wednesday crucifixion and a Friday crucifixion. Both are possible, but the question is which is more plausible?  Which makes the most sense?
Let's look at three points that shed light on the matter:
(1) Jesus' "three days and three nights" quote
(2) The Day of Preparation and what day that refers to
(3) The activity of the women in the days following the crucifixion
Three Days and Three Nights
The scripture that triggered the question of a Wednesday or Friday crucifixion is Matthew 12:40: "For just as Jonah was three days and three nights in the belly of the great fish, so will the Son of Man be three days and three nights in the heart of the earth." If we take the quote literally, the crucifixion day must be Wednesday; it's the only way for Jesus to have been buried for three days and three nights. But that's the question. Should the quote be taken literally?
Jesus predicted his death on numerous occasions, not just once. So let's consider all of them in harmony.
Matthew 12:40: For just as Jonah was three days and three nights in the belly of the great fish, so will the Son of Man be three days and three nights in the heart of the earth.
Mat 16:21: From that time, Jesus began to show his disciples that he must … be killed, and on the third day be raised.
Mark 8:31: And he began to teach them that the Son of Man must be killed, and after three days rise again.
Jn 2:19: Jesus answered them, "Destroy this temple, and in three days I will raise it up."
And the next scripture was not by Jesus, but by two disciples recountig the events:
Lk 24:21: But we had hoped that he was the one to redeem Israel. Yes, and besides all this, it is now the third day since these things happened.
Note the italicized portions and how the duration is noted slightly different in each of them …in three days, after three days, the third day, etc. The only consistent thing is the number "three," and I believe that's because no one was trying to be precise regarding the three days, i.e., a 72-hour period. You see, no one really refers to time in such specifics; we don't do it ourselves. We refer to "days" without necessarily referring to a full 24-hour period.  In this respect the Jews weren't that different from us.
Consider the following quote regarding the phrase, "three days and three nights":
"This sort of expression was a common way of underscoring the prophetic significance of a period of time. It was an emphatic way of saying "three days," and by Jewish reckoning this would be an apt way of expressing a period of time that includes parts of three days. All sorts of elaborate schemes have been devised to suggest that Christ might have died on a Wednesday or Thursday, just to accommodate the extreme literal meaning of these words. But the original meaning would not have required that sort of wooden interpretation. The words are perhaps a mere adaptation of the phrase in Jonah, and are here used only to roughly mark the time of our Lord's stay in the grave."
Proponents of a Friday crucifixion count parts of a day as a complete day, just like we do today. If I go on vacation at 3pm on Friday, I'm likely to still count it as a vacation day. I won't take the time to explain that I technically left at 3 and that it wasn't a complete day.
Proponents of a Wednesday crucifixion count from sunset to sunset:
Wednesday evening = Night One
Thursday morning = Day One
Thursday night = Night Two
Friday morning = Day Two
Friday night = Night Two
Saturday morning = Day Three
Saturday evening = Night Three
The Day of Preparation
The one thing beyond dispute is that Jesus died on "Preparation Day."  All the Gospel writers are very clear about this.
Jn 19:14: Now it was the day of Preparation of the Passover. It was about the sixth hour. He said to the Jews, "Behold your King!"
Jn 19:31: Since it was the day of Preparation, and so that the bodies would not remain on the cross on the Sabbath (for that Sabbath was a high day), the Jews asked Pilate that their legs might be broken and that they might be taken away.
Mk 15:42-43: And when evening had come, since it was the day of Preparation, that is, the day before the Sabbath, Joseph of Arimathea … went to Pilate and asked for the body of Jesus.
Lk 23:53-54: Then he took it down and wrapped it in a linen shroud and laid him in a tomb cut in stone, where no one had ever yet been laid. It was the day of Preparation, and the Sabbath was beginning.
Mark provides the definition of preparation day: "The day before the Sabbath."
Those who support a Wednesday crucifixion make an interesting argument: That all the major holidays were considered Sabbaths, even when they didn't fall on a Saturday. So there could have been two Sabbaths that week, the Passover Sabbath on Thursday and the weekly Sabbath on Saturday.
Now, it is true that God required a Sabbath rest on the day after Passover, but there's no proof that it was officially referred to as "The Sabbath." Were there two Sabbaths that week? The Passover Sabbath and the weekly Sabbath? It's possible, but I say that's really reaching, and here's why:
(1) Not one of the Gospel writers mentions two Sabbaths that week. They were all careful to fix the time of Jesus' crucifixion, so it seems logical that at least one of them would mention the two Sabbaths, and tell us which one they were referring to.
(2) Mark 15:42-43 gives the definition of Preparation Day: The day before the Sabbath…Tradition says that Mark specifically wrote to Gentiles, non-Jews. So did he take the time to give a definition of Preparation Day, but neglect to say which Sabbath this was preparation for.  No, his statement only makes sense if there was only one Sabbath that week.
(3) John 19:31 states that the Jews wanted to take the crucified bodies down because that Sabbath was a special Sabbath. The most natural explanation is that this weekly Sabbath was no ordinary Sabbath; it was special because it was also the day after Passover. If it was a Sabbath in addition to the weekly Sabbath, such a distinction wouldn't be necessary.
The Women, the Spices, and the Tomb
When did the women purchase and prepare spices?  Luke and Mark appear to give two different accounts:
Lk 23:54-56: It was the day of Preparation, and the Sabbath was beginning. The women who had come with him from Galilee followed and saw the tomb and how his body was laid. Then they returned and prepared spices and ointments. On the Sabbath they rested according to the commandment.
Mark 16:1: When the Sabbath was past, Mary Magdalene, Mary the mother of James, and Salome bought spices, so that they might go and anoint him.
Luke says the women prepared spices and then rested on the Sabbath; Mark says they rested on the Sabbath and then purchased spices.
If we accept a Wednesday crucifixion, this makes sense.  On Wednesday evening the women went home and prepared the spices they already had, perhaps they took an inventory and found that what they had wasn't nearly enough. Since the Passover Sabbath was beginning, they couldn't purchase more spices until Thursday evening, after the Passover Sabbath.
If we accept a Friday crucifixion, the women went home and prepared spices they already had.  Then they rested on the weekly Sabbath, Saturday. After the Sabbath was over, they purchased more spices, if we take Mark's "bought" literally. But he could easily have meant that they took the prepared spices to the tomb first thing Sunday morning.
BUT….. if the crucifixion took place on Wednesday, there's too much time unaccounted for.
Wednesday evening to Thursday evening – The women prepare spices and then rest in observance of the Passover Sabbath.
Thursday evening to Friday evening – The women possibly purchase more spices, but they do nothing else, even though they are free to do so.
Friday evening to Saturday evening – The women rest in observance of the weekly Sabbath.
If we accept this sequence of events, there's an entire day where it seems the women did absolutely nothing.  Really? Put yourself in their shoes. Feel their emotions after everything they had just witnessed. If they didn't visit the tomb on Friday, they knew they wouldn't be able to do so until Saturday night/Sunday morning. Would they wait? Would you?
If there's one thing we understand from reading the accounts in all four Gospels, these women were devoted to Jesus.  They supported him throughout his ministry; they stayed through the brutal crucifixion even though all but one of the disciples had left him; they stayed to see where his body was buried because they were already making plans to return with spices.
Is it possible that, for whatever reason, the women didn't rush to the tomb on Friday morning?  Sure it is, but given everything we know, it's not probable.  However, their actions make sense if Jesus was crucified on Friday. They went to the tomb as soon as they were able, as we'd expect them to.  They bought spices after resting on Saturday, the Sabbath.  It was getting dark so they went to bed, got up Sunday morning while it was still dark, and arrived at the tomb just as the sun was rising. The very time of their arrival tells us how eager they were to get there. They wanted to go first thing in the morning, as soon as they were able.
So, a Friday crucifixion still makes the most sense for the following reasons:
(1)  The devotion of these women to Jesus simply wouldn't have allowed them to wait three full days before visiting their beloved Master, especially since we know from John 11 in the raising of Lazarus that by the third day, the body would begin to stink. This is yet another reason for the women not to wait.
(2)  The identity of Preparation Day is clearly Friday, the day before the Sabbath (Saturday).
(3) The ONLY reason to argue for a Wednesday crucifixion is the ONE scripture where Jesus refers to Jonah and mentions 3 days and 3 nights. But that's easily explained as an emphatic saying, which is not meant to be taken literally, any more than we would take it literally if someone says it was raining cats and dogs. We know that's just an emphatic way of saying it's raining hard.
The evidence for a Wednesday crucifixion simply DOES NOT outweigh the evidence for a Friday crucifixion. Now, if you believe in a Wednesday crucifixion, I ain't mad atcha! We can still be cool. We can still go to heaven together.
But my brothers and sisters in Christ, please stop making a big deal over this issue. It's a very interesting topic for discussion, so by all means, discuss it if you wish. But don't argue about it. Stop spreading negativity every Easter because of the possible discrepancy of a Day. Don't go into attack mode every time people speak of Good Friday. Really, just stop it!  This issue isn't at all essential to our salvation. It's just not that important.
Focus on what's really important. The DAY Jesus died hardly matters. What does matter is that he DID die, and that he was buried, and that he was resurrected on or around or after (take your pick) the third day. And he got up with ALL power and permanently eradicated the ultimate consequence of sin—Death!
Comments
comments