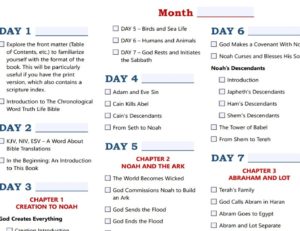 One of the hardest things about reading the Bible is sticking with it and finishing what we start. For that reason, this Bible Reading Plan was created.
This plan is for In the Beginning ~ Genesis to Deuteronomy. It is designed to take you through these five books of the Bible in four months, which gives you three to four pages to read each day.
Dates are not pre-filled; therefore you'll be able to start on whatever date you wish. This is a fillable PDF, which means you don't have to print it out in order to use it. You can simply type on the lines or click inside the checkboxes to mark them.
Comments
comments